What I didn't expect when driving into Colorado was slipping and sliding on fine red sand and mud on the roads, slowing to nearly a crawl because it was dangerous and crowded.
My reward at the end of it was a Boulder sunset. Nice, right?
What you don't see is a swarm on mosquitoes attacking me when I got out of the car to take the photo, then a meticulous search to make sure none were trapped in the car and ready use me as a buffet table. I also got rage-chased by a cyclist who rounded the corner at high speed and almost smacked into my stopped car, which he blamed on me.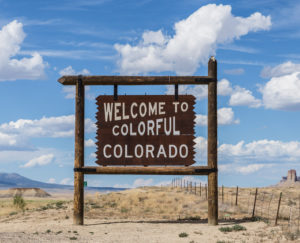 In Virginia Dale, a former stage station on the Overland Trail, turned church and post office, served to remind us of progress.
There were lovely mountain ranges and red rocks.

Plus hundreds of butterflies everywhere. It's migration season! A bunch of beetles attacked the car when I got gas, but no photo of that and don't know the reason.
The U.S. Mint was closed, so instead went to Wings Over the Rockies, a private collection of planes and space memorabilia honoring locals, but not only, who fought wars and have gone to the moon.
And although I'm not a Broncos fan, I wanted to see Mile High Stadium. Technically it's not called that anymore, but Sports Authority Stadium sounds empty and markety.
"The Broncos" sculpture is well done. There's a sense of movement and unbridled wildness, and it looks even better at night.
Last but not least, I headed downtown with my car and got my first taste of metered parking on steroids. Seconds after I put money into the state government machine, a meter maid on a Segway swooped in to make sure I paid.
On the day I saw the Blue Bear, I learned that the artist unexpectedly passed away the same day. His art lives on.
Yellowstone/Grand Teton to Denver: 512 miles > The longest stretch I'll drive in one-go on this trip.
Stay: Airbnb $110/night
Memorable Meal: Soup dumplings and Beef chow fun at trendy ChoLon
Song of the Day: Rock and Roll by Led Zeppelin