Driving into Memphis, two things became obvious — I'd changed climates again and it's very much about Elvis.
The temperature rose to 92°F and 88 percent humidity. Melting! 🙁
To get to Graceland, you drive on Elvis Presley Boulevard, turn into the parking lot and see a bunch of different "Elvis Lives" banners. And he does, eternally.
Then you see the pearly white gates.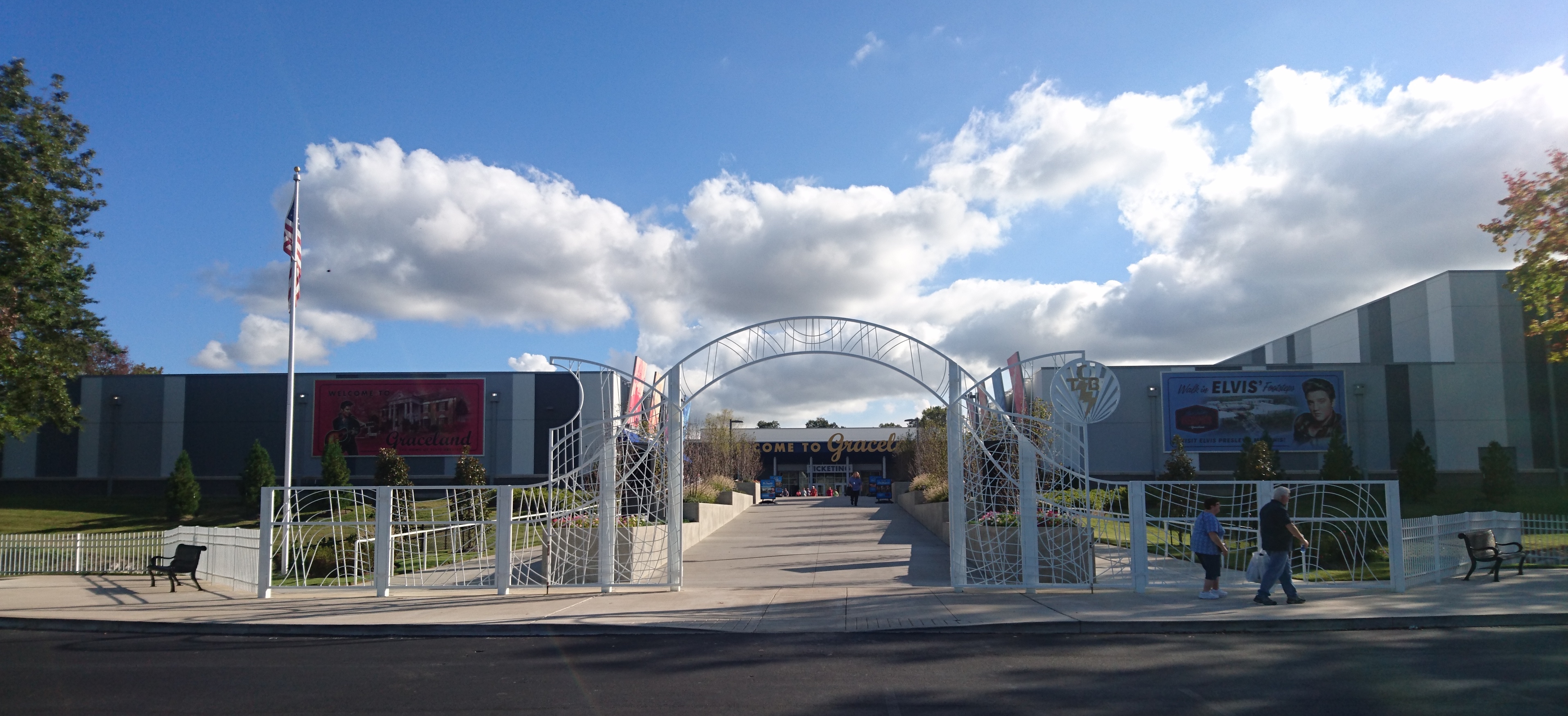 This is the complex where you start your visit. There are several buildings of exhibits, a diner, a snack bar and BBQ place, but you see those later if you signed up to visit where he once lived.
Across the street is the mansion itself. Never knew there was a racquetball court. And there's the meditation garden where Elvis, his parents and aunt are buried.
Returning to the complex, there's a huge movie theater to view one of many films, look at his aircraft and motor vehicle collections, displays of his awards and outfits, plus an exhibit dedicated to his military service and many possessions.
The black-and-white photo above is one of my favorites because of his expression. And the Elvis sign with life-size cutout is from the Jailhouse Rock movie, during which he sings Baby, I Don't Care, the song of the day mentioned below.
Everything was well written and well done, presented in a way that told the story of his life, what events were significant and how he felt at that time. It gave me a better appreciation of him as a person and artist, and his place in music history.
Feeling sentimental and nostalgic, I picked up a number of souvenirs for other people and bought a water bottle/infuser for myself.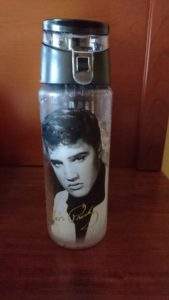 I then went onto downtown Memphis, where my hotel and the rooftop pool overlooked the Mississippi River and the city. You can see the moon rising on the right side.
I finished the night with a walk down the colorful, fun and funky Beale Street, and the best fried chicken in Memphis.
I have left the building…
Springfield to Memphis: 315 miles
Stay: Comfort Inn Downtown Memphis, $107/night
Memorable Meal: Hot and spicy fried chicken, cole slaw and mac and cheese from Gus's World Famous Fried Chicken, plus IBC root beer and pecan pie. I ate it all!
Song of the Day: Baby, I Don't Care by Elvis